Privacy Policy
Policy Statement
When you make contact with us, you share with us and trust us with your information. We take this responsibility seriously and are committed to protecting your information, whilst leaving you in control.
The purpose of this Privacy Statement is to provide a clear explanation of:
What information we collect
Why we collect it
How we use your information
How you can view, update, manage, and delete your information
Privacy statement
We recognise the importance of your privacy and any information you choose to provide to us is used to enable us to send you further information about products in which you have registered an interest. By providing us with your information you consent to us processing it for the purposes outlined above. We will not pass it on to any third party.
Copyright notice:
Copyright © EXHEAT Ltd
Herunterladen von EXHEAT Broschüren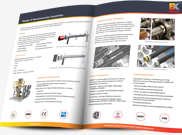 Herunterladen von Broschüren im PDF Format
Technische Heizsysteme
Industrielle Standardprodukte
Vertriebsingenieur kontaktieren
Vertrieb von technischen Heizsystemen:
+44 (0)1953 886 205 - UK
+65 6496 4602 - ASIA
Vertriebsingenieur kontaktieren:
+44 (0)1953 886 210 - UK
+65 6496 4628 - ASIA